Phone: (773) - 545-0555

Fax: (773) - 545-2783

Horizontal Plate Lifters
Lift and move sheets made of a variety of materials efficiently and reliably with Strato-Vac sheet lifters. Cross arms adjust to varying sheet widths while adjustable load beams accommodate varying lengths of load. Telescopic cup frames and foldable cup frames are available for short loads in tight places. Parking legs are available as an option on most lifters.
Where compressed air is available, venturi units are normally supplied for the lighter sheet lifting requirements ( up to 1000 lbs. ). A Strato-Vac venturi unit requires only one cubic foot of air per minute at 45 PSI to generate 21 inches of mercury vacuum ( 10.5 lbs. per square inch ) in each vacuum cup.
Strato-Vac electric power pacs with vacuum pumps ranging in size from 4 to 100 CFM, are supplied on all other sheet lifters.
Electric pump type lifters are available with manually operated vacuum controls on the machines or with remote electric pendant controls. Indicator lights and vacuum gauges are also standard for this type of lifter.

MODELS
Model No. 27300 ( 4000 Lbs. Cap. )
-------------------------------------------------------------------------------------------------------
Model No. 43200 ( 3000 Lbs. Cap.)
-------------------------------------------------------------------------------------------------------
Model No. 4785 ( 1000 Lbs. Cap.)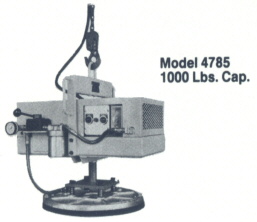 -------------------------------------------------------------------------------------------------------
Model No. 12725 ( 400/800 Lbs. Cap.)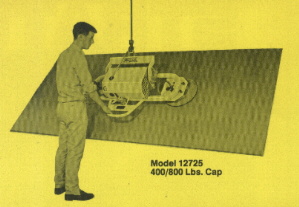 -------------------------------------------------------------------------------------------------------
Model No. 1926 ( 600 Lbs. Cap.)