Phone: (773) - 545-0555

Fax: (773) - 545-2783

Vertical Glass Lifters
Strato-Vac is the nation's leading manufacturer of lifters for glass installation. Strato-Vac Glass Lifters are recognized as the finest in the industry by leading plate glass manufacturers and contractors. Most of the large plate glass in place today was put there with Strato-Vac Lifters.
These lifters are used to remove glass from a truck, rotate it if necessary, raise it and set it in place. Adjustable cross arms accommodate plate glass as large as 10 feet by 30 feet.
Glass lifters are available with shut-off check valves on each cup. With this unique feature ( Standard on some units shown ) each cup is an independent reservoir and in the event of glass breakage across one vacuum cup, only that cup will loose vacuum strength. The others will hold the remaining load.
All glass lifters shown have adjustable cup frames to handle a wide range of load sizes.
MODELS
Model No. 4490 ( 2100 Lbs. Cap. )
-------------------------------------------------------
Model No. 3460 ( 1060 Lbs. Cap. )
-------------------------------------------------------
Model No. 3550 ( 1600 Lbs. Cap. )
-------------------------------------------------------
Model No. 4820 ( 500 Lbs. Cap. )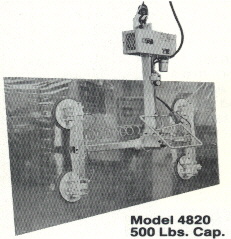 -------------------------------------------------------